Chairman's Message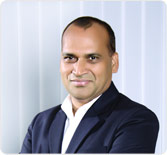 At Ramky Group, we believe wealth creation through sustainable means is the greatest challenge facing every economy today. To enable a smarter, environmentally and socially responsible way of life for today, tomorrow, and for generations to come, we have made sustainable development our mission.
To us, a sustainable business model, means, to make the best use of available resources by curbing depletion and increasing reinvestment, to create infrastructure that enhances the quality of life and not squander away the opportunities as well as natural assets available to us.
Ramky Group is today poised to grow exponentially with collaborations that transcend geographical and cultural boundaries. We shall not lose sight of our ethical, transparent and value–added business practices, our integrity and our respect for long term relationships as we continue to tread the path of sustainable growth across industries and countries.
Shri Alla Ayodhya Rami Reddy
Chairman
Ramky Group